See on Scoop.it – Second Life and other Virtual Worlds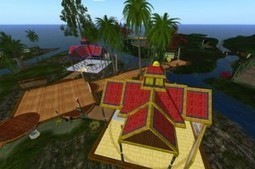 Virtual Ability Community Events, week of Feb. 4-10
**Events marked are open to the public. All other events are for VAI community members and their invited guests.
TUESDAY Feb 5
2:30pm SLT- Woodget's Weekly Quiz Night- VAI Sanctuary Beach Cafe
WEDNESDAY Feb 6
**1pm SLT- SL Limits (Part 2)- Yellow Hibiscus Cabana
THURSDAY Feb 7
**10am SLT- Shot in the Dark (flu vaccination)- Healthinfo Island Research Pavilion
1pm SLT- The Content Tab- VAI Sanctuary Building Classroom
FRIDAY Feb 8
**11am SLT- Second Life's Little Secret- Sojourner Auditorium
**noon SLT- What is One Billion Rising About?- Sojourner Auditorium
SATURDAY Feb 9
**8am SLT- About VWBPE 2013- Sojourner Auditorium
1pm SLT- Swim and Chat- VAI Sanctuary Beach Cafe
SUNDAY Feb 10
**noon SLT- Self-Advocacy: Who, How, and Why- Yellow Hibiscus Cabana
2-4pm- Pun-off Party and Dance- Dance Pavilion, VAI Sanctuary
All events brought to you by the Virtual Ability community. Please see individual event notecards below. If you have ideas for future VAI events, please contact iSkye Silverweb.
See on www.metaversejournal.com